parkbnch@cat.nyu.edu
Copyright ©1996 ParkBench Fine Artists, All Rights Reserved.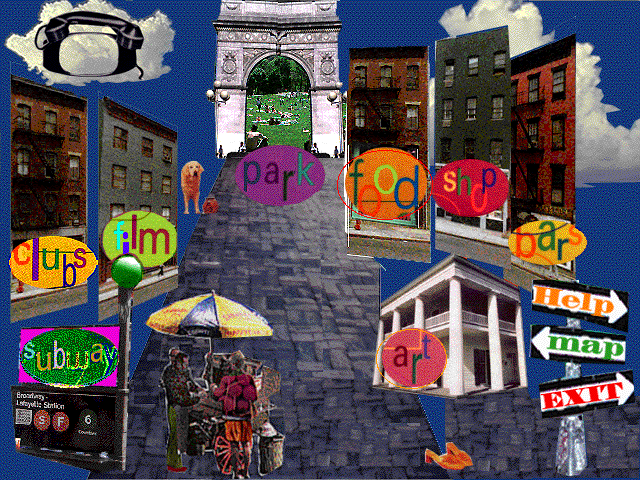 A public-access network of kiosks for the people of New York City,
incorporating WWW and videophones, and serving cable TV.
[click on options to activate]

What's ParkBench?

ParkBench is a network of Web kiosks installed in locations in Manhattan which are accessible to the public. At each kiosk, users can browse the Web, make instantaneous contact with other sites using Web Video (see the live ParkBench StudioCam), and engage in collaborative creative action using the shared whiteboard. The ParkBench home pages will guide users to community and cultural information.

ASHS on ParkBench

We are collaborating with ASHS (Auxiliary Services for High Schools) of the New York City Board of Education to install kiosks at eight sites distributed throughout the five boroughs. Students will use the network to communicate with one another, create collaborative projects (including a newsletter); students will act as hosts at the public kiosk sites, introducing new users to the technology, while showing off their work.

Over the past year we have experimented with Web Video as a performance and communication medium.

Live Wednesday Night Web Performances
Digital Performance Archive
Alice Sat Here wireless telerobotic installation.

Design

Each kiosk will be child- and wheelchair-accessible, and will be equipped with a canopy to protect equipment and user from the elements. ParkBench is a work-in-progress, by New York University Center for Digital Multimedia artists-in-residence Nina Sobell and Emily Hartzell.

ParkBench Bibliography

"Four Bones Coolness Award": GetOnline's Gollywood Server Push Animation Festival, January, 1996.
"ParkBench Sculpting Performances": The Acid-free Paper, edited by Kevin Smith, v. 1, No. 4 January, 1996. Net Culture section.
"The Buzz," by Sobell and Hartzell, TalkBack! edited by Robert Atkins. Issue #1 December, 1995.
"Art On Line," by Robert Atkins, Art in America cover story, v. 83, No. 12 December, 1995. p. 64.
"Do You Mind if I Sit Here?" by Kimberly Neuhaus, I. D. Magazine v. 42, No. 2 March-April, 1995. p. 24.
"ParkBench," Artists' Pages by Emily Hartzell and Nina Sobell, Felix: Landscape(s) v. 2, No.1, 1995. pp. 302-5.

Nina Sobell

Nina Sobell is an artist who first began to use electronics when she videotaped participants' undirected interactions with her giant movable sculptures as her Master's Thesis from Cornell in 1971. Her work in the field since then has included an interactive public-access video/EEG interface, public-access videophone interface, and the installation of a matrix of oscillating cameras in a NYC storefront. With ParkBench she adds the functions of the internet to the videophone in order to continue to create mediating architectures which the public can take over and put to their own uses. In addition, she continues to produce sculpture, lithographs, and drawings. Here are inline images of some recent figurative sculpture.

Emily Hartzell

Emily Hartzell is Artist-in-Residence at NYU's Center for Digital Multimedia, where she is developing public-access ParkBench Web kiosks. She has pioneered the use of real-time video on the Web through a series of Monday Night Sculpture Performances. She received her MFA in Computer Art from the School of Visual Arts, and produces on Mac and UNIX platforms. She is currently working in Web design, multimedia production, and the assembly of advanced input devices for Digital Image Design. She graduated magna cum laude in Visual and Environmental Studies from Harvard University, where her focus was on writing and visual literacy. As a multimedia artist and independent curator, her work has received favorable reviews. Her work in kiosk design has been reviewed in numerous arts, design, and technical journals, and she has been invited to present the project at Cooper Union and Tisch School of the Arts at New York University. Here are some inline images of recent photographs.